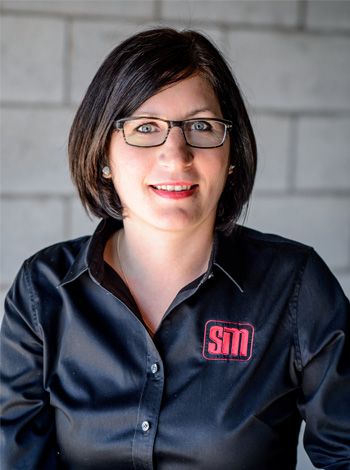 Mylène Pepin
The youngest daughter of Gérald Pepin, Founder of SIM – Steel Buildings & Dry Kilns inc., Mylène Pepin has the essential qualities desired by leaders, including the drive to excel and a taste for challenge. She is a shareholder since the 1st of December 2015, and is in charge of the Administration and sales department.
Before joining the team, in 2010, driven by the desire to take over her father in the company, Mylène Pepin got her degree in the Fashion Marketing program, at LaSalle College.
She has worked in this field for 10 years as a production coordinator, on an international scale.
She's an energic woman, mother of two boys, working full time, who also finds time to continue her studies in the Administration program, at UQAM.
Always on the look-out for new challenges, in 2012, she joins the Trophée Roses des Sables for the 2014 edition. Following the tradition of the grand African rallies, the Trophée race, is one of orientation and not speed, in the desert of Morocco. Their goal is to reach the arrival arch, following as carefully as possible the established route, every day, only by reading the road book and using a compass. She finished the rally in the 4th position, on a total of 148 teams.
She considerably exceeded her targets.
Her charming personality, strenght of character, leadership, determination and multiple professional skills make her the perfect candidate to eventually take over a well established business. Mrs Pepin also joined the ranks of the Quebec Employers Council (CPQ) to take maximum advantage of her desire to become an entrepreneur. She is proud to be part of the Club Relève of the CPQ.
It also has always been very important to Mylène Pepin to get involved with her community, and that, since she was a little girl. She got involved with the Saint-Eustache Skating Path Corporation, and since 2010, she is an active member of the Club Kiwanis of Saint-Eustache. Added to that, she sits on the board of directors of the Fondation Hôpital Saint-Eustache.
A woman of challenge, determined and committed: the best choice for a successor!
Ambassador for the Fière Entrepreneure Project